Devaun and Andy San Dimas Live, Part 2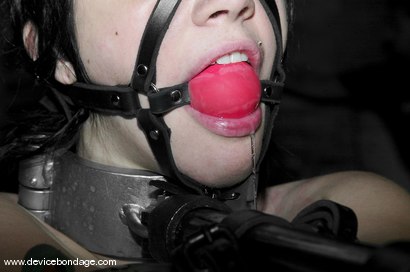 Join Site!
725+ Shoots
490+ Hours of video
104,500+ Pictures
Updated weekly in HD
A live show every month
Access to member forums
---
Devaun and Andy San Dimas Live, Part 2
The live show continues with Devaun bent over, arms strappado and bound to a post, face down and made to keep her ass up by a metal hook inserted in her rectum.
While Devaun recovers from the ordeal, Andy's arms are chained and strapped outstretched, a heavy steel collar is locked around her neck and she is gagged tightly with a full head harness. She is attached to a pole by her neck, and left to kneel on a box, completely helpless as more painful clamps and weights are hung from her nipples. When a vibrator is pressed between her thighs, which are also strapped tightly together, the experience is initially pleasurable, getting several orgasms out of her rigid body, but soon becomes a torment of its own - so much so that when Devaun is hoisted up in the air behind her in a straitjacket and lowered onto a Sybian, she doesn't even bat an eye or acknowledge the ear piercing screams that emit from Devaun's throat.
---